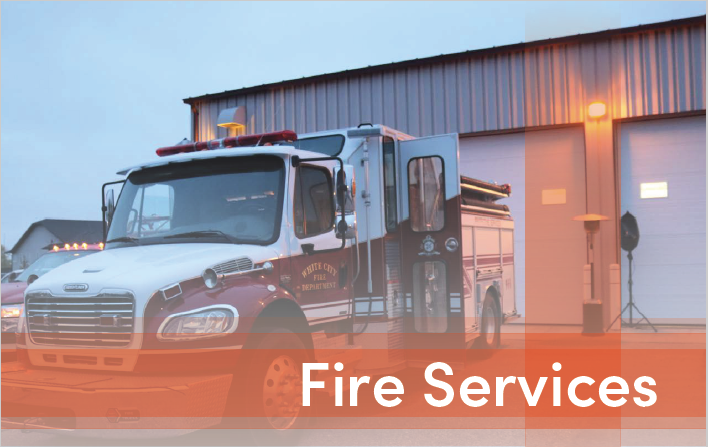 Over the past 40 years the White City Fire Department has provided fire services and medical aid to White City, Emerald Park and area. The Department has worked hard – together with residents from both White City and Emerald Park – to form a first-class fire department with dedicated volunteers.
The White City Fire Department is committed to serving the community and surrounding area through excellence in fire prevention, education, community protection and safety programs.
Under the direction of Fire Chief Randy Schulz and Deputy Chief Mathieu Theriault, a force of over 25 members proudly protects White City, and surrounding area, residents.
The Town's long-term plans include ensuring our fire protection and medical response services meets the needs of residents now and in the future. The Town is fully committed to supporting and growing the White City Fire Department as a high-quality service to our residents and as a mutual aid partner to our neighbours.
White City Fire Department Primary Services: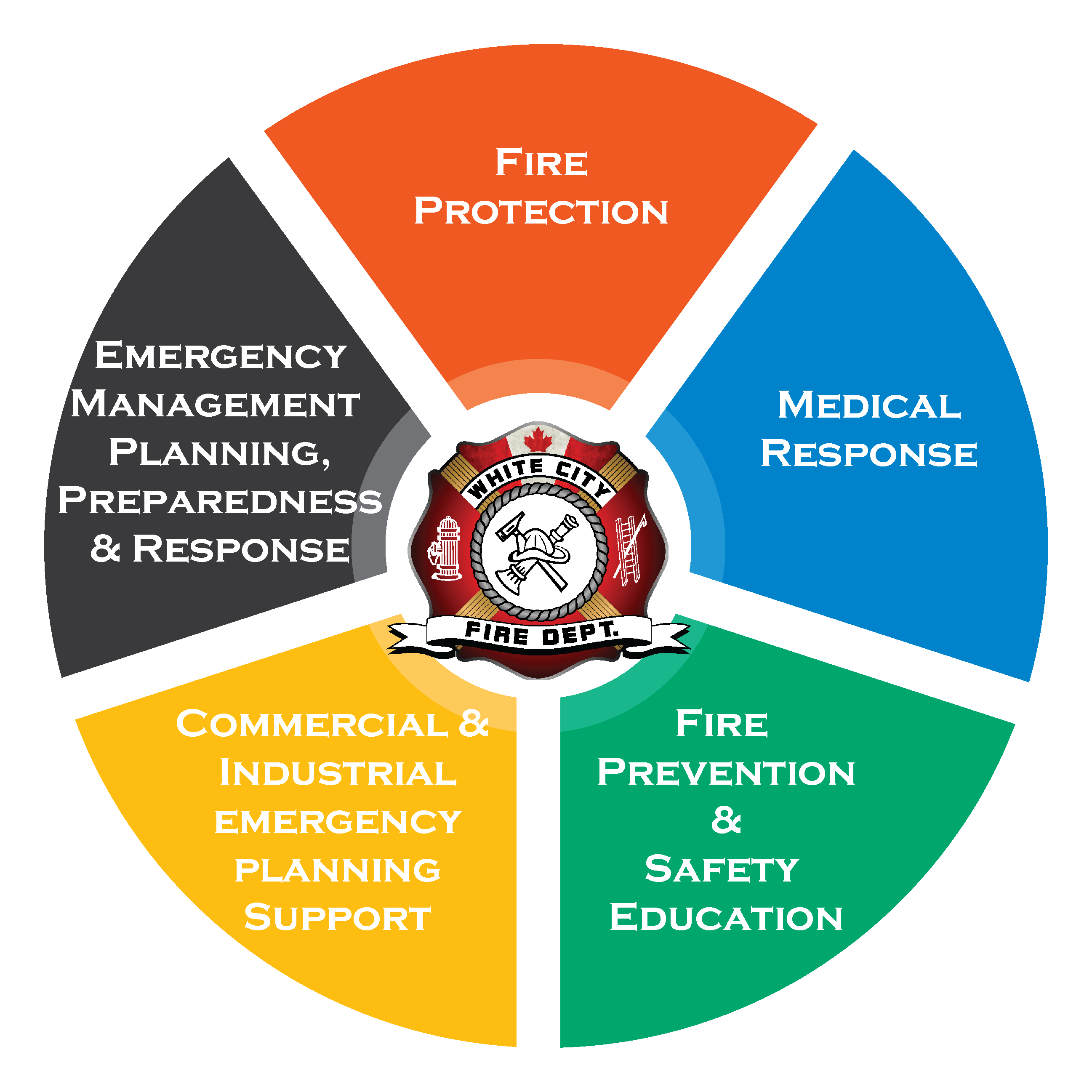 - Fire Protection
- Medical Response
- Fire Prevention and Safety Education
- Commercial and Industrial support for emergency planning through our Lock Box Program
- Supporting Emergency and Disaster Management Planning, Preparedness and Response
Want to learn more about our primary services? Click here to contact White City Fire Department .
CLICK ON A SECTION BELOW TO LEARN MORE ABOUT WHITE CITY FIRE DEPARTMENT:
Our Fire Hall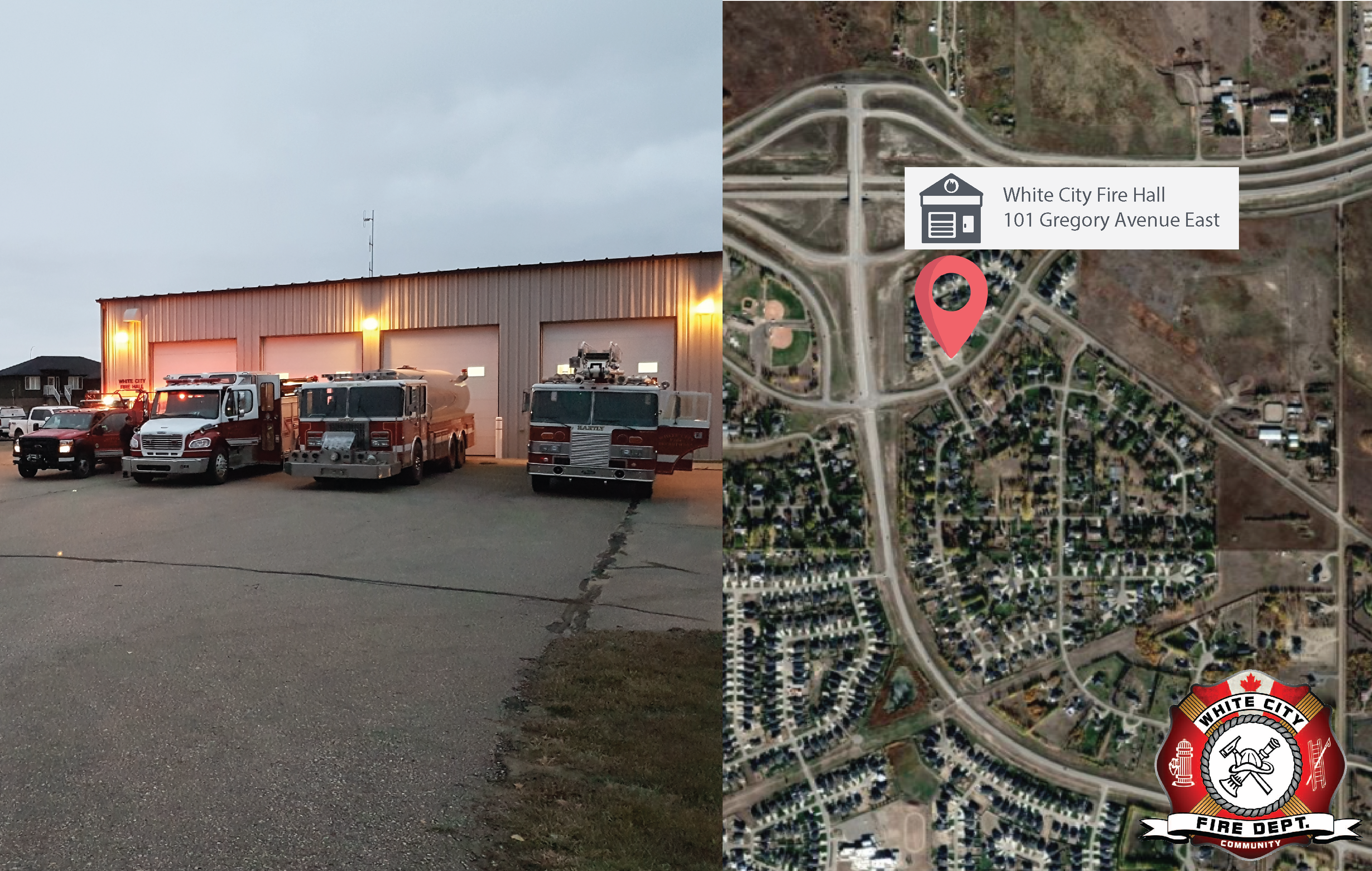 The White City Fire Hall is located at 101 Gregory Avenue East in White City, SK. Close to Highway 48 and the White City Overpass, this location has quick access to major transportation corridors within the community to provide fast and efficient response to activations.
Our Service Area & Activation Statistics
Effective January 1, 2023 - White City fire service area is specifically located within the Town of White City.
For a map of fire boundaries for the surrounding region - click here.
Historical Activation Statistics

Our Fleet
The White City Fire Department Fleet currently includes seven units:
- Rescue 1
- Pumper 1
- Tanker 1
- Ladder 1
- Wildland 1
- Chief Unit 1
- Mobile Operations Unit 1
Our Training Programs
Beginning June 2021, our Fire Department commenced training and the certification of our members for NFPA 1001 Level 1 or 2 . This certification is a professional designation recognized provincially and internationally with standards utilized in career departments like Regina Fire and Protective Services. We are excited that we are able to deliver this content from several certified instructors and fire service professionals who are already members of WCFD. These instructors will volunteer several additional hours to their already busy schedules to ensure each of the members on our Fire Department will get world class instruction and certification.
• Scott Francis - 1001 Level 2 Certified Instructor
• Reagan Coppicus - 1001 Level 2 Certified Instructor
• Murray Wright - 1001 Level 2 Certified Instructor
• Brad Smith - Level 1 Certified Instructor
• Cal Knowles – Level 300 ISC Canada Certified Instructor
The certification training will take place at the White City Fire Training Grounds – a two-acre area located south of White City part of a larger ten-acre site allocated for future training grounds. Over the past few years, WCFD has been working to develop and establish training grounds that will include structures for search and rescue, live fire training, vehicle extrication, defensive driving and hazmat scenarios with the ability to expand in the future. The training grounds provides WCFD with a well-equipped and safe location to perform routine training, train new recruits and now to bring the level of certification for all members of White City Fire Department up to a provincially and internationally recognized standard with NFPA 1001 certification.


Donations
The White City Fire Department always graciously excepts donations to help fund operations or upgrade equipment. If you are interested in providing a donation to the White City Fire Department please contact White City Fire Department.
Join The White City Fire Department
The White City Fire Department is a committed group who give their time when called upon, as well as, for continued training to maintain and improve skills. They are on call 24 hours a day. Volunteers are not always available during an emergency so we need as many volunteers as possible. You may have the skills to contribute to the Fire Department – contact White City Fire Department for more information.