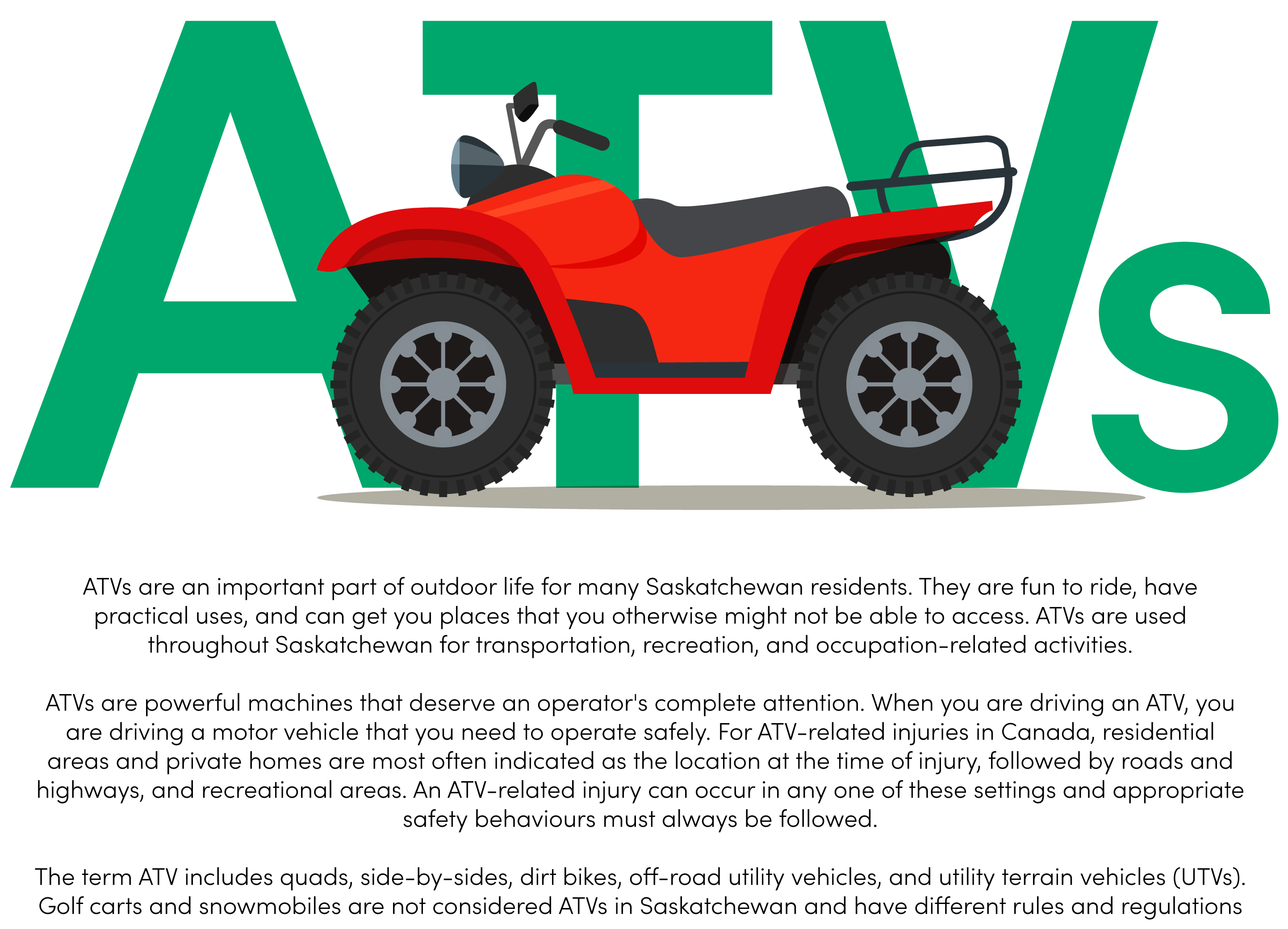 ---
Municipal Regulations
Effective January 10, 2022:
Registration of ATVs within the Town of White City is no longer required. ATV owners are responsible for their own liability & insurance.
You can only ride an Off-Road Vehicle in Town:
on private property with permission from the land owner;
taking the most direct route to and from your property to travel outside of town; and
on the farthest right-hand portion of the road.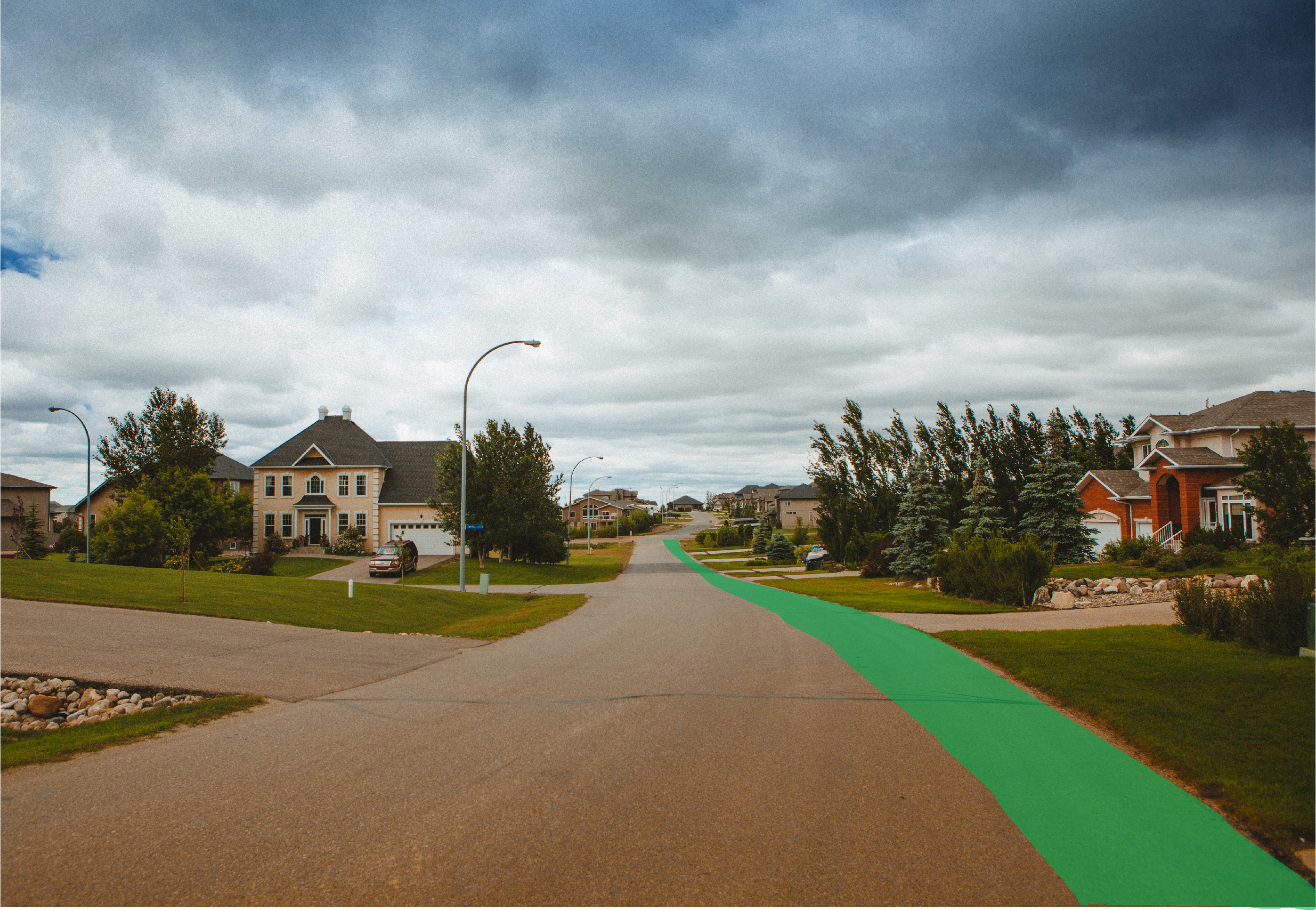 Off-Road Vehicles are not allowed on town land, public reserve land, parks, buffer strips, walkways and crown owned land.
Multi-Use Pathways are only intended for non-motorized usage & pedestrians. NEVER ride your ATV on the town's pathways.
Additional Regulations:
Permitted hours of operation are 7:00 a.m. to 11:00 p.m.
ATVs are not permitted to create excessive or unusual noise due to the mechanical state of the vehicle or the manner in which the ATV is operated.
ATV speed limit within town is 20 km/hr.
Per The All Terrain Vehicle Act operators under 12 years old are not permitted to use ATVs on public land. Operators 12-15 may operate an Off-Road Vehicle if they have taken an ATV Safety Course or are accompanied by an adult (18+) with a valid driver's license.
Provincial Regulations
You must be 16 years of age and hold a valid driver's licence to drive an ATV on public land. If you don't have a driver's licence, there are some rules that apply before you can drive an ATV on public land and cross roads (but not drive on roads). You must:
be 12 years of age or older; and,
pass an approved ATV training course; OR,
be supervised by someone who has held a driver's licence continuously for the last 365 days. Your supervising rider can either be riding a different ATV or be on the same ATV as you.
Click Here for More Information from SGI.
ATV Safety Course
We encourage all ATV operators to take an ATV Safety Course, however, per new municipal regulations it's only required if:
You are age 12-15 and you are not being directly supervised by an adult with a valid driver's license; or
You are over 16 and you don't have a valid driver's licence.
An ATV training course is recommended for operators of all ages. A safety course will help refresh skills for experienced ATV riders as well as teach new skills for new riders. There are instructors throughout Saskatchewan who offer approved ATV training courses.
Delivered by Canada Safety Council-certified instructors, the ATV/UTV curriculum is based on field-tested techniques and meets Occupational Health & Safety Regulations. The ATV/UTV rider course is a hands-on learning experience with emphasis on the safety implications of each area of riding. Students learn how to ride while being aware of their surroundings to avoid an incident.
Other topics include:
Legislation and regulations (The Saskatchewan Employment Act and the OH&S Regulations (Saskatchewan))
All-terrain Vehicles Act & Regulations (Saskatchewan)
Proper riding gear
Inspecting your ATV
Starting procedures
Proper riding techniques and operation
Navigating different terrain types (obstacles, slopes/hills)
Laws and regulations
Preparing for emergencies
For more information on ATV Safety Courses, contact:
David Burnett, Chief Instructor
306-384-8079 in Saskatoon
burnett3@sasktel.net
Saskatchewan All Terrain Vehicle Association
1-855-297-2882
http://www.satva.ca/atv-safety
Saskatchewan Safety Council
306-757-3197 in Regina
https://www.sasksafety.org/
Ultimate ATV and Off-road Training
306-533-9966
kenmatechuk@hotmail.com
http://kenmatechuk.com/training/
Ride Rite Safety Training & Certification
306-441-3046
riderite@sasktel.net
http://www.riderite.ca/
---
Safety First
Injuries remain a leading cause of death, disability, and years of life lost in Canada. ATV use has resulted in devastating injuries and death to Saskatchewan residents. These injuries span across all geographic locations and age groups, including seniors and toddlers.
In Saskatchewan in 2015, there were 9 ATV-related deaths. There were 5 ATV-related deaths in 2016, 5 in 2017, and 2 in 2018. The number of injury-related hospitalizations is much larger. For example, Athabasca Health Authority reported 41 injuries related to ATVs and snowmobiles between January 2019 and September 2020. This gives you a picture of the extent of serious ATV-related injuries from one area of the province. This number does not include emergency room visits, those that were treated at home, and fatal injuries.
For Saskatchewan children and youth, ATV-related injuries were the 9th leading cause of injury resulting in hospitalization between 2004 and 2013, with an average of 48 hospitalizations per year.
A person who is involved in an ATV crash can suffer life-long disabling or fatal injuries. It is vital to prevent ATV-related injuries.
ATVs And Children
Because of their design, size, and speed, ATVs require considerable strength, balance, coordination, and cognitive ability to safely drive. ATVs are not toys. Children do not possess the physical development to safely drive an ATV or the cognitive ability to react to potentially dangerous situations. Considering the high risk of injuries to children and youth when operating ATVs, the Canadian Paediatric Society recommends that children and youth younger than 16 years of age should not operate an ATV.
The Canadian ATV industry recommends that ATVs designed for children and youth come with factory-set maximum speeds and carry warning labels explicitly indicating the age limit for use, the need for mandatory adult supervision, and a warning that operation of ATVs by children under the designated age limit increases their risk of severe injury or death. There is a lack of evidence in the research that youth sized ATVs reduce the risk of injury.
Youth-sized ATVs are smaller in size and reach slower speeds than a regular ATV, but this does not mean that they are without risk. 'Age-appropriate' ATVs may weigh up to 90 kg (200 lb) and reach speeds of 50 km/hr (30 mph). 'Age-appropriate' ATVs still reach speeds that a youth cannot be expected to understand or react to and weigh more than a youth can physically control, particularly at these speeds. Youth do not possess the abilities to safely control an ATV of any size. This is why the Canadian Paediatric Society recommends no ATV use for children and youth under the age of 16.
---
Approved ATV Routes
ATVs should be operated on the 'farthest right-hand portion of the road' based on the direction of travel. Be aware that roadways in White City are shared so always be alert and keep an eye out for traffic while travelling through Town. Note: operation of ATVs on PROVINCIAL HIGHWAYS is only permitted to safely cross the highway - you should travel in the ditch area along Provincial Highways.