Discussions on White City's Zoning Bylaw and Official Community Plan (OCP) began in 2013. The first draft of the Zoning Bylaw and OCP were presented in 2014. Public Open Houses and Surveys were provided for resident feedback and consultations with various groups were held. From these consultations, four potential options were presented in a survey with positive and negative impacts. Residents were given the option to submit their preference for Town Centre concepts which resulted in the option that was chosen for the Town Centre Neighbourhood Plan (TCNP).
The OCP was developed and approved by council in 2014 and received final approval from the Ministry of Government Relations in April 2015. An OCP is a bylaw that is developed through consultation and engagement with the community. It contains objectives and policies that will guide decisions and planning on land use management within the municipality. OCPs are intended to govern the overall direction of development and the pace of development at a policy level. Regulatory tools such as zoning bylaws or development permits will provide specific details for development. OCPs are important to a municipality as all bylaws and projects undertaken by the municipality must be consistent with the OCP. Most OCPs apply to the entire municipality and are the principal policy document council uses to make decisions. In White City's OCP a specific set of policies was developed for the Town Centre, which is where the TCNP comes into place. Council will use the OCP to guide decisions on land use, protection of the environment, transportation, economic development and housing needs. OCPs establish key policy goals, land use patterns, transportation networks and infrastructure, networks of green spaces and parks, housing types available in each neighbourhood which impacts the variety and affordability of housing choices, commercial and industrial development, and policy foundation for infrastructure planning that will determine how efficient and sustainable water, wastewater, and energy systems are. OCPs are updated every 5 to 10 years with a vision setting the course for long-term future development.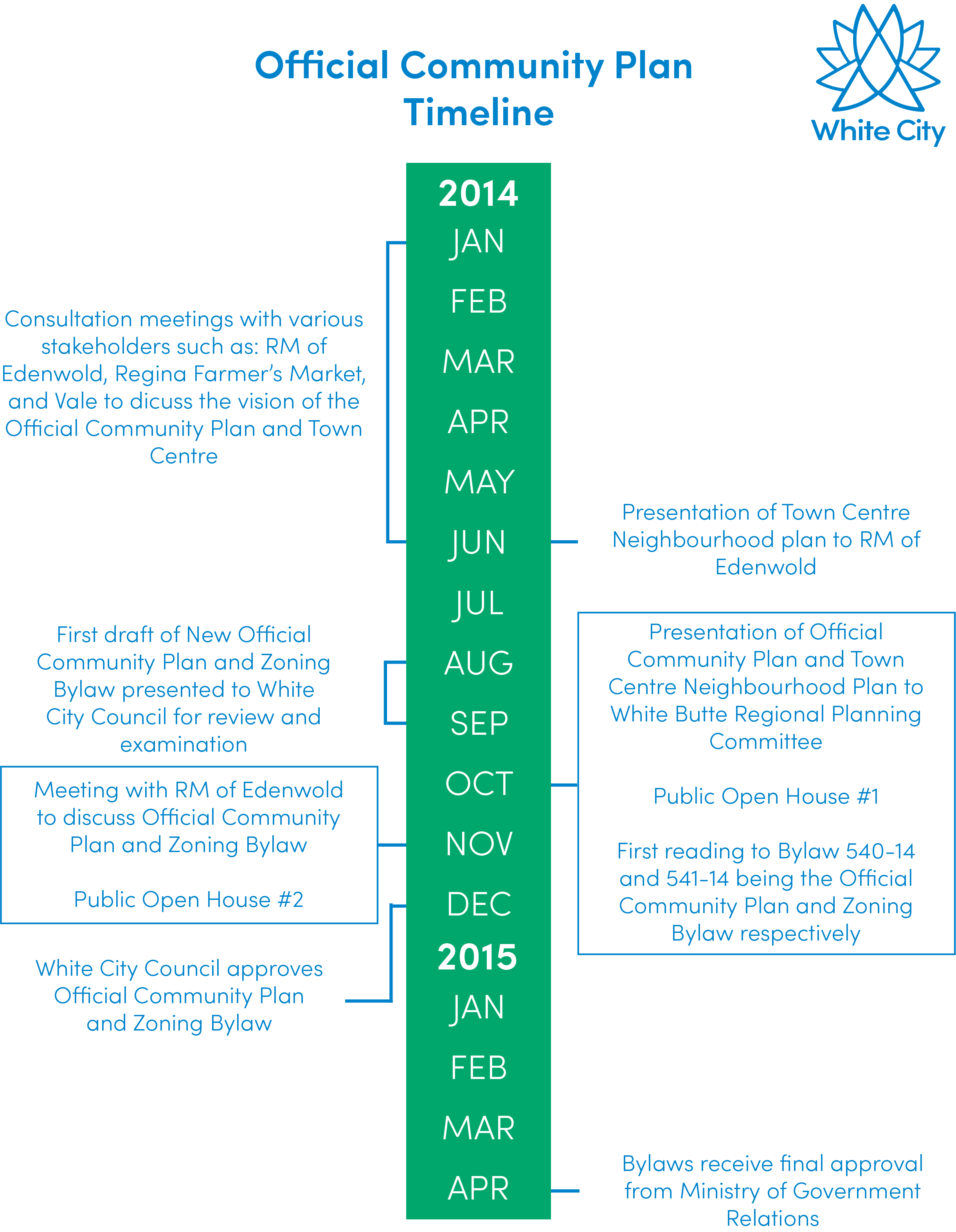 The purpose and content of an Official Community Plan is legally outlined in sections 31 and 32 of The Planning and Development Act, 2007 (the PDA) as follows; The purpose of an Official Community Plan is to provide a comprehensive planning policy framework to guide the physical, environmental, economic, social and cultural development of the municipality or any part of the municipality.
The policies of this Official Community Plan, Bylaw No. 580-14, shall apply to the incorporated area of the Town. Policies, which address the future development of areas outside the current limits of the Town, will affect on annexation of those areas to the Town, or in conjunction with the Council of the Rural Municipality of Edenwold No. 158. All development shall conform to the objectives and policies contained in this Official Community Plan.
What Is An OCP?