The Town of White City Sewer Utility has two divisions: Wastewater Treatment and Sanitary Sewer Service.
Wastewater treatment is managed by the WCRM158 Wastewater Management Authority (WMA). The WMA is a joint utility board comprised of the Town of White City (the Town) and the RM of Edenwold No. 158. This board responsible for the management of wastewater collection, storage and treatment. The Wastewater Capacity Expansion project aims to provide wastewater capacity for a population of up to 15,000, meet compliance with government and environmental regulations and support the growth of both municipalities.
The Town owns and operates the sewer infrastructure within municipal boundaries. Click the drop downs below for more information: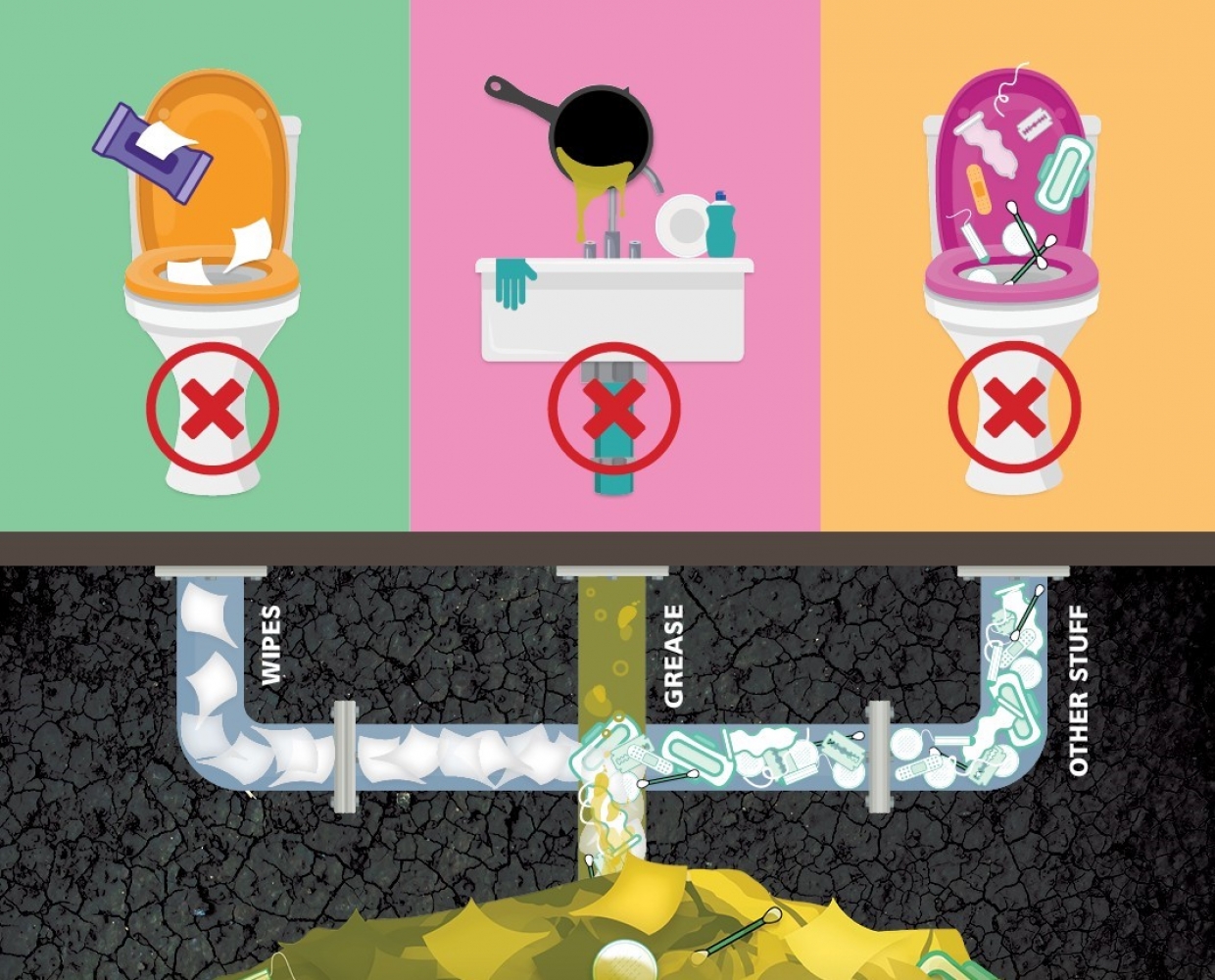 The only thing that you should be flushing down the toilet or drain is excreted matter and toilet paper.
Although many wipes claim to be flushable, they are not safe for our sewers. Please watch what you flush and pour down the drain.
Here is a list of items that you shouldn't flush:
Wipes (remember, there is no sewer safe flushable wipe, no matter what the packaging says!)
Rags
Paper Towel
Hair, Lint, or Dirt
Feminine Hygiene Products, including Tampons
Condoms
Cotton Swabs or Pads
Floss
Chemicals
Fats
Grease
Butter
Dressings
Oils
Sauces
Gravy
Spreads
Basically, if it's not water, excreted matter or toilet paper, do your best to keep it out of our sewer system!
What happens if a large amount of these items get flushed? It causes problems for everyone and could result in a hefty plumbing bill!
Each property must have its own service connection to the Town of White City's sewer system.
The sewer connections shall be installed in accordance with the Town's Building Bylaw. All sewer connections must be approved by authorized personnel and shall be constructed at the expense of the owner. Any fittings required to join the sewer system to the applicant's building shall be the owner's responsibility, unless the Municipality determines otherwise.
No person shall connect to the sewer system or any part thereof, without a plumbing permit by a plumbing contractor.
48 hours' notice for sewage inspections must be given to the Manager of Public Works via email .

Please provide at least three days notice for services installed during the winter months.

The Manager of Public Works/Town Foreman will contact you by email or phone to confirm inspection.

The depth of the service connection trench shall be sufficient to provide a minimum cover of 2.5 metres (8.2ft). If the depth at the front of the house doesn't meet the required cover, you will be asked to insulate until the cover meets 2.5 metres. (Please have appropriate insulation available - Polystyrene Foam Board Insulation to be Dow Styrofoam High-Load 40 Insulation or approved equal).

These depth measurements shall be taken by a competent person and provided to Town inspector to be recorded.

Please see the Sanitary Sewage Works Bylaw No. 584-14 which details general sanitary sewage works, connection services and rates/charges associated with these sewage requirements.
Application for Sewer Inspection