SAVE THE DATE: Saturday, June 10th, 2023!
Check out some of these awesome activities we have planned so far. Stay tuned because there is even more to come!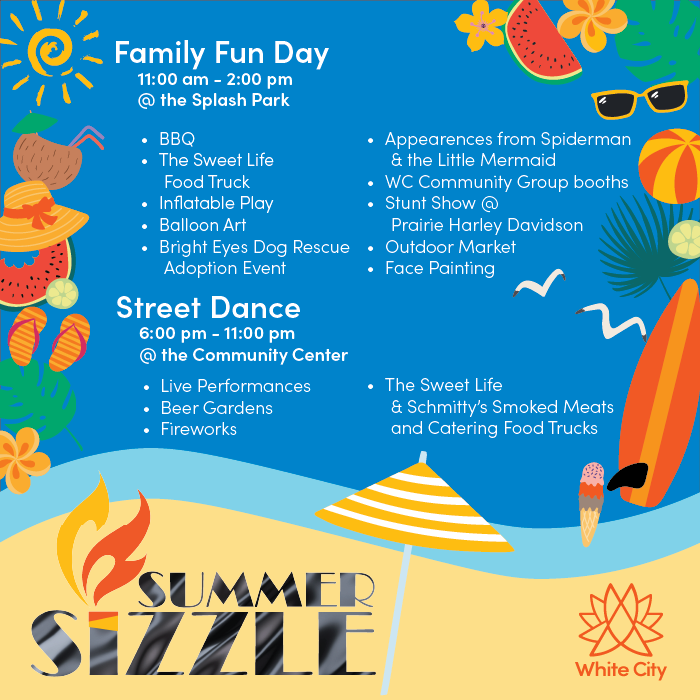 VOLUNTEER OPPORTUNITY
We would not be able to put on this event without the help of our amazing volunteers. If you have volunteered in the past, we hope to see you again. But if you haven't volunteered before, we would love to have your help. Grab a friend and enjoy a super fun summer day engaging with your community!
Sign up to volunteer during the daytime for our Family Fun Day activities here.
OR
Sign up to volunteer in the evening for our Street Dance here.
Sponsorship Opportunity
Looking for the opportunity to become part of one of the biggest community events of the year? To put your company's name in front of hundreds of sophisticated community members and party goers? Want to show your employees and investors your dedication to our community?
Consider sponsoring the Town of White City's 2023 Summer Sizzle on June 10, 2023.
Sponsoring this Summer Festival will provide you with the unique opportunity to connect with the community, build brand awareness and show your company's support of an important cause: connecting the community through recreation and culture.
Summer Sizzle Sponsorship Information Package
If you are interested in sponsoring Summer Sizzle 2023 and building a valuable and mutually beneficial relationship contact rhimmelspeck@whitecity.ca