Free to Be
(Youth Program)
A new program by the Town of White City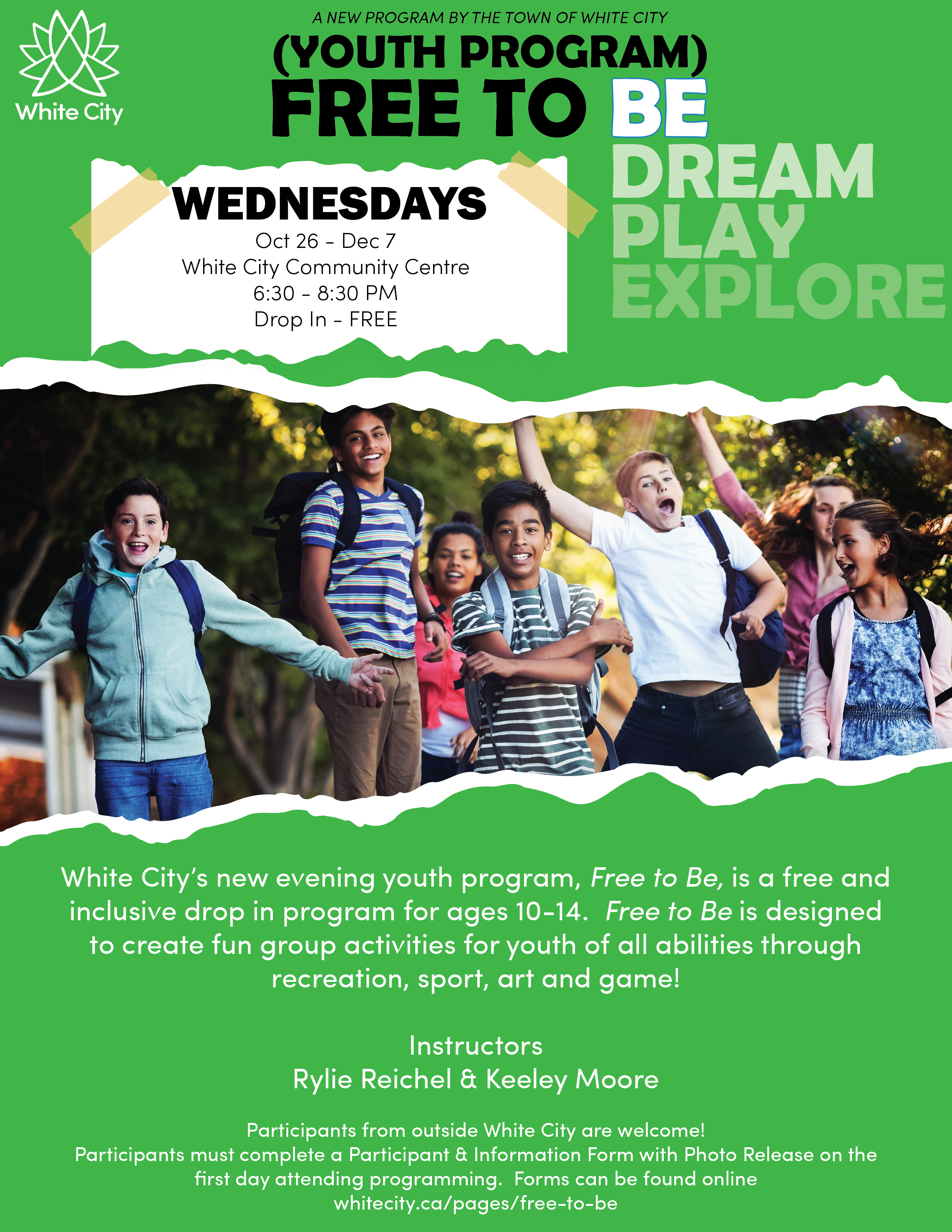 Wednesdays
6:30 - 8:30PM
October 26 - December 7
White City Community Centre
Drop In - FREE
Join us on Wednesdays from October 26 to December 7. Drop into one session or come to them all - we're happy to have you! Participants from outside the Town of White City are welcome! Free to Be is a free and inclusive drop in program for ages 10-14. Free to Be is designed to create fun group activities for youth of all abilities through recreation, sport, art and game!
Program Schedule: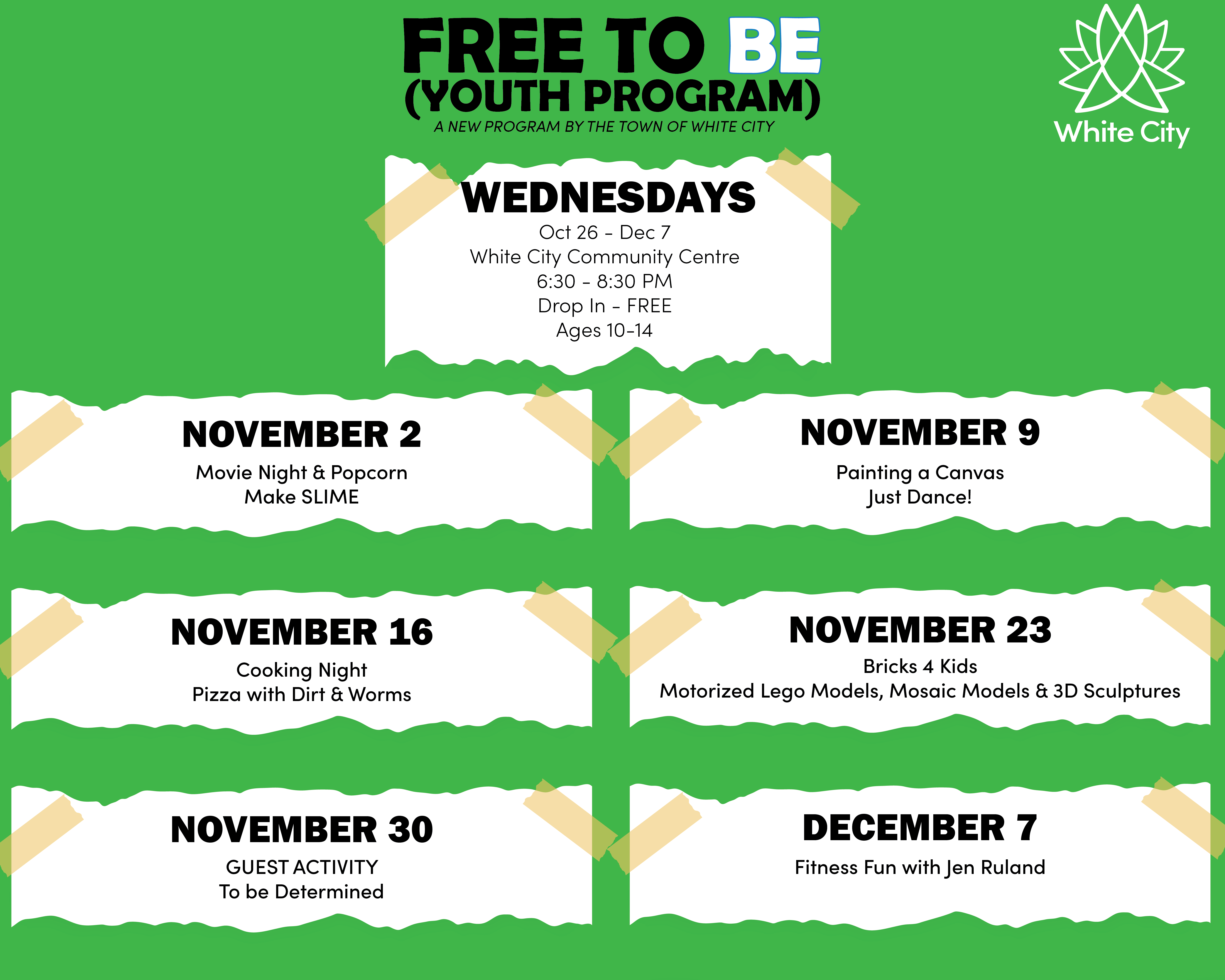 Wednesday November 2
Movie Night & Popcorn
Make Slime
Wednesday November 9
Painting a Canvas
Just Dance!
Wednesday November 16
Cooking Night
Pizza with Dirt & Worms
Wednesday November 23
Bricks 4 Kids
Motorized Lego Models, Mosaic Models & 3D Sculptures
Wednesday November 30
GUEST ACTIVITY
To be Determined
Wednesday December 7
Fitness Fun with Jen Ruland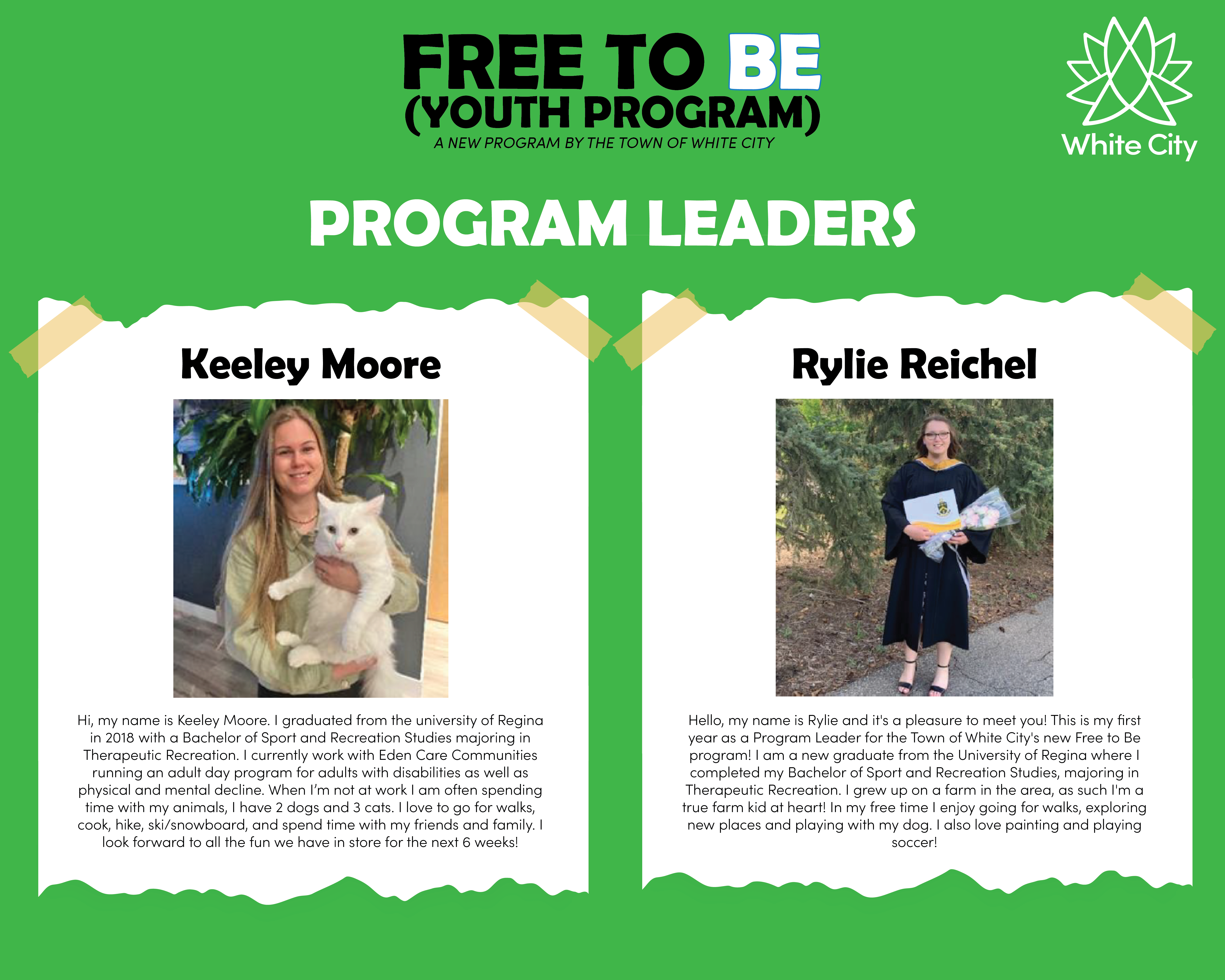 Program Leaders
Keeley Moore
Hi, my name is Keeley Moore. I graduated from the university of Regina in 2018 with a Bachelor of Sport and Recreation Studies majoring in Therapeutic Recreation. I currently work with Eden Care Communities running an adult day program for adults with disabilities as well as physical and mental decline. When I'm not at work I am often spending time with my animals, I have 2 dogs and 3 cats. I love to go for walks, cook, hike, ski/snowboard, and spend time with my friends and family. I look forward to all the fun we have in store for the next 6 weeks!
Rylie Reichel
Hello, my name is Rylie and it's a pleasure to meet you! This is my first year as a Program Leader for the Town of White City's new Free to Be program! I am a new graduate from the University of Regina where I completed my Bachelor of Sport and Recreation Studies, majoring in Therapeutic Recreation. I grew up on a farm in the area, as such I'm a true farm kid at heart! In my free time I enjoy going for walks, exploring new places and playing with my dog. I also love painting and playing soccer!
Please note: Participants must complete a Participant & Information Form with Photo Release on the first day attending programming.